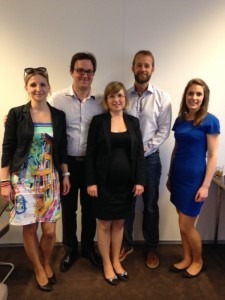 Utrecht Council sees new Executive Members elected!
Friday 12th June 2015 was an important day for our network: annual council was held in Utrecht (NL). Most countries were represented by a delegate, and despite an intensive social programme a night before, even most of the exchangees showed up!
Maud van de Venne (UK) was thanked for her contribution to the Network as President. With a cheerful personality and never-ending optimism, she has without doubt left a mark in the trainees' community.
Anna Aabakke (DK) will serve as President for next 2 years. She worked as Secretary General before, and is very much up to her job. Best wishes for her!
Alexandra Kristufkova (SK) was elected as Secretary General. A previous Executive Member, she knows the secrets of the trade.
Laurids Bune (DK) was re-elected as the Treasurer. A senior member, he will continue to run the finances alongside Anna and Prof. Hornnes, the Treasurer of EBCOG, also from Denmark, and their communication will be most efficient we've had sofar.
And finally, we've got a new Executive Member: Agnieszka Lemańska (PL). With a smart presentation and flawless CV, she won the delegates to her favor. Welcome Agnieszka to the crew!
Žiga Jan (SI) is the only Committee Member that did not present for re-election. A current webmaster, he will serve on ENTOG until İstanbul Congress in May 2016.
Utrecht, June 2015